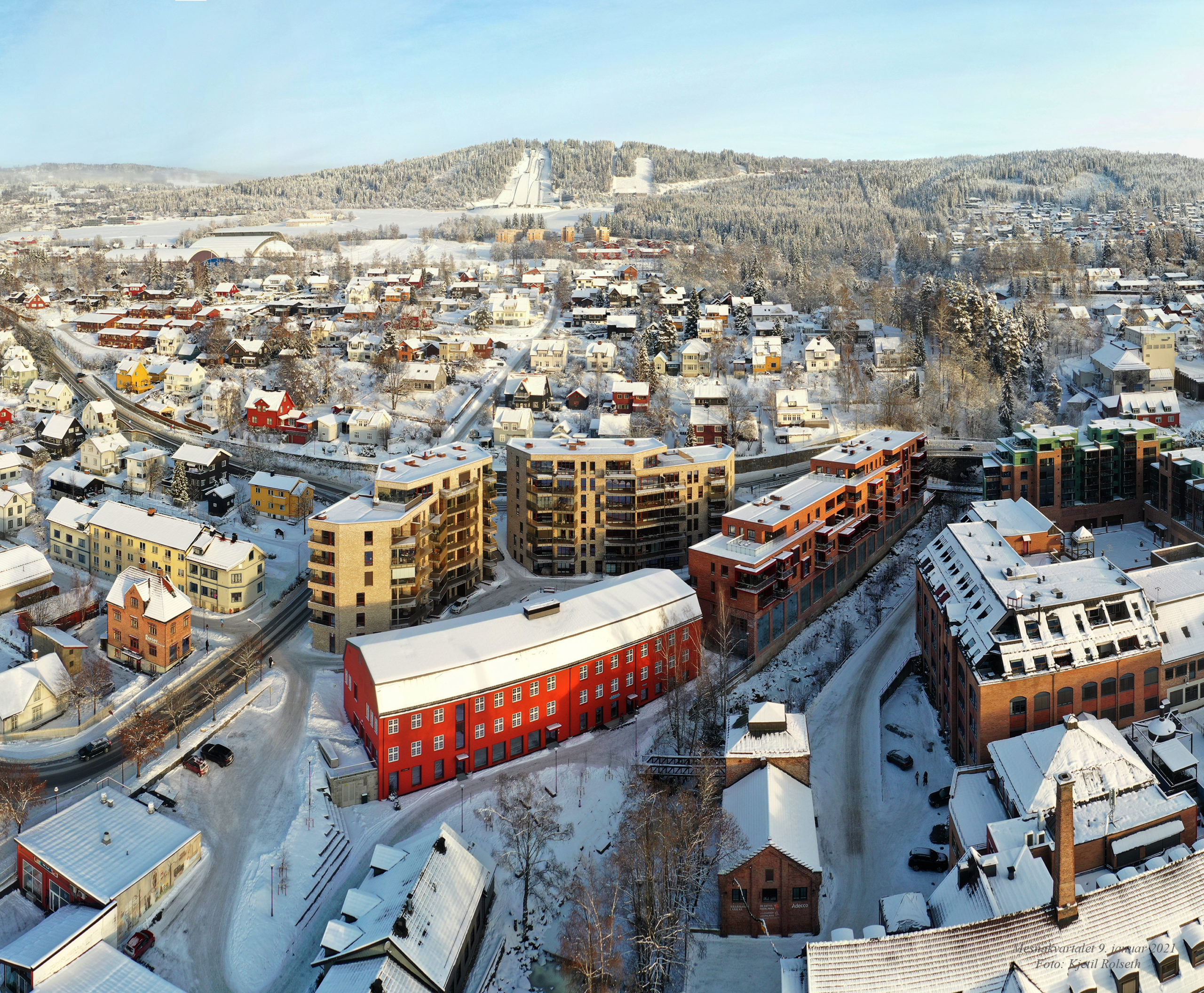 Mesnakvartalet – candidate to "Building of the year 2020"
"The Building of the year" is a prestigious award given by the magazine Byggeindustrien. The award goes to projects that are innovative and appear as a role model for the industry. Mesnakvartalet was completed in November 2020 and is now a candidate for Building of the year 2020, in Norwegian Årets Bygg 2020.
"We are proud to be among the candidates for the Building of the year 2020 award, it is great to see that our project is seen as a role model for the industry", says Arne Albrigtsen, Project Manager at Smedvig Eiendom.
Throughout the project, there has been good cooperation across the different suppliers. There has been a good common understanding of what was to be delivered, both from the client, architect and contractor. A close collaboration with suppliers contributes to little construction defects, the right quality and good productivity.
In the middle of the construction period the corona pandemic occurred, which made it difficult to operate on the construction site. "With good cooperation from all parties, this exceeded all expectations, we managed to keep good progress in the project, and avoided damage throughout the construction period," says Albrigtsen.
Mesnakvartalet is almost 20,000 sqm, of which 17,000 sqm goes to 107 apartments of various sizes as well as parking and sheds. The remaining area is business premises with fitness center, hairdresser and office space. There is also a bakery opening soon.
Great emphasis has been placed on external aesthetics and choice of materials. Bricks have been used on all new facades. A total of 330,000 bricks have been used, which gives it a robust and solid look. Mesnakvartalet has been well integrated with the old protected buildings around, where the old is combined with the new in a nice way.
Mesnakvartalet was designed by Lund + Slaatto Architects and contractor is Veidekke. It is the largest construction project in Lillehammer since the 1994 Olympics.
Are you interested in an apartment in Mesnakvartalet? Contact our brokers in DNB. Contact information can be found here.
Criteria's for the Building of the year:
The project must have documented outstanding implementation in accordance with, among other things, progress, quality, construction defects, HSE, finances and cooperation.
The project must appear as a model project – an example of good building practice / architecture
The project must follow requirements for universal design
The project must be designed for efficient operation, service and maintenance, and have a satisfied client and users
The project must document that the environment is taken into account in the planning, implementation and in the end product
The project shows elements of innovation and innovation

Photo: Lars Marius Bækkevold


Photo: Lars Marius Bækkevold


Photo: Lars Marius Bækkevold


Photo: Lars Marius Bækkevold


Photo: Lars Marius Bækkevold