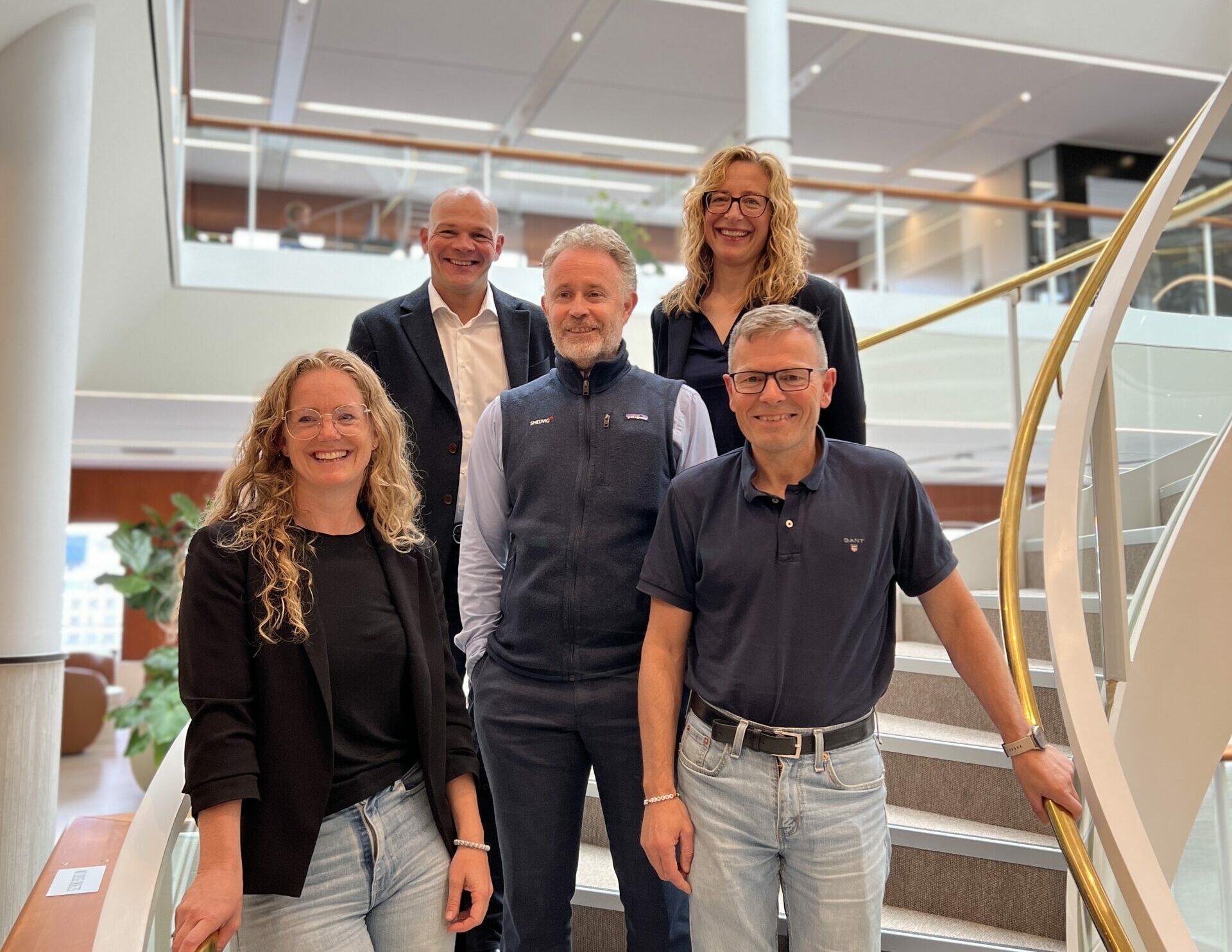 Smedvig's rehabilitation project the first in Norway to receive WELL Core Certification at the Platinum level
Smedvig's former headquarters, located at Løkkeveien 103 in Stavanger, has achieved prestigious Platinum level WELL Core Certification after undergoing rehabilitation, making it the first in Norway. The classic office building was built in 1986 and the rehabilitation project was completed this year. Platinum is the highest level of WELL Certification that a project can achieve. The office space is now occupied by Norske Shell, who moved in in January this year.
Smedvig Eiendom has been awarded WELL Core Certification at the Platinum level for their rehabilitation project in Løkkeveien 103 by International WELL Building Institute (IWBI). The prestigious distinction was awarded through IWBI's WELL Building Standard (WELL), which is the premier building standard to focus on enhancing people's health and wellness through the buildings where we live, work and play.
A holistic approach to human and health well-being.
WELL Certification supports Smedvig and Veni's joint commitment to build for the future.
– We spend over 90% of our time in buildings, and for us in Smedvig, it is important that the people who occupy and surround our buildings thrive and have a positive experience. Higher well-being also means that efficiency increases, which contributes to increased value creation for our tenants. We are proud to be the first in Norway to receive the WELL Core Certification after construction, says CTIO of Smedvig Eiendom, Rune Augenstein.
Veni has been responsible for WELL and worked together with Smedvig Eiendom, the project team, and the tenant during the certification process, as well as for BREEAM In-Use where certification is hopefully just around the corner. WELL Certification does not only consider the building itself with outdoor spaces, but also the services provided by the building owner, such as food and exercise offerings, operation and maintenance procedures, as well as employee benefits for their staff in a holistic approach.
– It has been exciting to learn more about the effect of good building design and services on our health and happiness, as well as environmental impacts. The office space at Løkkeveien 103 is amazing! We also see clear synergy effects between BREEAM and WELL, and we are particularly proud to achieve the highest certification level for a rehabilitation project, says WELL AP in Veni, Heather Bergsland. At the same time, she has a challenge for the Construction Industry in Norway – We welcome local industry professionals to train as Performance Testing Agents to build our capacity right here in Norway.
– We are inspired by the dedication of Smedvig to achieve WELL Core Certification at Løkkeveien 103 following a rehabilitation project, says Ann Marie Aguilar, Senior Vice President, EMEA, at the International WELL Building Institute. – Not only is Løkkeveien 103 the first project in Norway to achieve WELL Core Certification at the Platinum level, Smedvig has also demonstrated that it is attainable for all building types to prioritise people's health and well-being.
– We applaud documented qualities and congratulate Løkkeveien 103 on their certification. It shows that they are ambitious and can document the range of measures they have implemented, says Katharina Bramslev, CEO, Norwegian Green Building Council.
– Our main goal was to outperform the home office. We wanted employees to prefer coming to the office instead of working from home. We have been located here for six months now, and we observe a very high level of presence. Daily usage is as high as 70-80 percent. This demonstrates that the building is functioning well and that our employees are enjoying it. The physical work environment has a positive effect on collaboration and human interaction. The open spaces allow us to see more of each other and be more connected. The acoustics are also designed to create a pleasant environment, but overall, it's the totality that works for us. We are thriving in this building, says Sjur Berggraf, Norske Shell's Project Lead for the new office.
Earlier this year, Smedvig's cluster community Site 4016 in Stavanger achieved WELL Core Pre-certification for the design phase of the ARK building.
About WELL Building Standard.
Created through seven years of rigorous research and development working with leading physicians, scientists, and industry professionals, the WELL Building Standard is a performance-based certification system that marries best practices in design and construction with evidence-based scientific research. The rehabilitation project in Løkkeveien 103 earned the distinction based on ten categories of building performance; Air, Water, Nourishment, Light, Movement, Thermal Comfort, Sound, Materials, Mind, Community — and achieved a Platinum level rating.
To be awarded WELL Certification by IWBI, the rehabilitation project in Løkkeveien 103 underwent rigorous third-party review to verify it met all WELL Certification performance requirements.
For further information, contact:
Rune Augenstein, CTIO Smedvig Eiendom, Tel.: +47 992 12 414
Heather Bergsland, WELL Accredited Professional (WELL AP) Veni AS. Tel.: + 47 906 47 190
Photo (from left):
WELL Accredited Professional (WELL AP) in Veni, Heather Bergsland, Project Lead for the new office i A/S Norske Shell, Sjur Berggraf, CTIO in Smedvig Eiendom, Rune Augenstein, Engineering Manager in Veni, Liv Agathe Backer, Technical Manager in Smedvig Eiendom, Svein Dagfinn Asbjørnsen.